INTRODUCING DIAZ DAVIS: A JOURNEY THROUGH THE SENSES

–Words by DIAZ DAVIS

When two equal, yet opposing, forces come together, something intriguing happens.

In ancient Yin Yang philosophy, there is a beautiful concept called complementary opposites. An example of this is the relationship between breathing in and breathing out–you cannot have one without the other, and they feed one another in an endless cycle. They are both defined by and for one another.


Simplified form of
Lai Zhide
's "
Taiji
River Diagram" (1599)
This is what happened when we, Mages Ruiz Diaz and Emma J Davis, formed DIAZ DAVIS creative studio–we realised we weren't merely two separate people from opposite backgrounds. We both complemented and completed each other creatively. And the trajectory to this union has been one filled with a yearning for a more human-felt existence, one that places emotion and philosophy at the heart of every experience. It's what we in Western society haven't been paying attention to in the world, particularly when it comes to brands, their identities and the impact they have on us all as individuals.
Our first invitation to you is to journey with us into the past and take a walk through a few of the collaborative projects and experiments we've undertaken. It's a journey through the human senses, one that seeks to reveal a different perspective on brands and how they shape meaning and affect our interpretation of the world around us.
Our hope is that by the end of this journey, you'll understand in more depth what DIAZ DAVIS embodies, and start to look at brands a little differently from now on. Ready? Let's dive in.


SOUND
Photo courtesy of Sake Argentina for Beldent
One of the most overlooked and underutilised senses crucial to how we perceive our surroundings is sound. Digital technologies have dramatically altered how we take in sound, especially how music and musicians are experienced. In a collaboration with global brand Kraft, Mages Ruiz Diaz set out to reinvent how people interact at a music festival on a number of different levels.
The Beldent Random Music Fest
was a three day music festival that had no set times and no schedules–music lovers didn't know which band would play next or on what stage. Additionally, festival goers couldn't buy tickets, they could only find them hidden inside Beldent gum packets. Attendees could also vote on which band would close out the festival on the last night. A lot of conscious decisions were made in this project on how people would interact while at the event, even down to the digital wayfinding created so that groups of friends could link up and not get lost.
As a brand activation for Beldent, the event flipped the festival model on its head, creating hundreds of moments to surprise and delight attendees. One might think there's a giant chasm between chewing gum and live music, but there isn't when the focus is on the consumer of the brand, rather than the brand itself.
SCENT

Photo Max D'orsogna
We are first and foremost a studio obsessed with spatial strategies–what we produce is very tangible. We like the physicality of things, so we build, we paint and we curate the spaces in which brands can be felt and understood. Take, for example, skincare brand Brightwood.
Emma J Davis began the collaboration with Brightwood with the intention to elevate the perception of the brand. It had a quaint, homemade and somewhat 'market-stall' like personality that we transformed into a more thoughtful, sophisticated and meaningful identity. What we uncovered when working with Brightwood's founder, was a story of resilience and healing, all underpinned by an appreciation for beautiful Australian botanical ingredients.
This end-to-end journey yielded stunningly organic branding, a cohesive visual identity, collateral for packaging, and an atmospheric website that lived and breathed the brand's values. Crucial to this was a focus on how the products made consumers feel–rejuvenated, refreshed and healthy.
TOUCH

Photo courtesy of Sake Argentina for Claro
As a creative studio, we love to lead our clients into what we do as "artists in the studio". The traditional agency obsession with Client Services just doesn't suit us (or the people we work with) particularly because we place relationships first, above all else.
In a project for Latin American telecom company Claro called Art 3.0, one of the brand's key motivators was to connect people together. Mages devised a competition for local artists and musicians to exhibit their work in a three-day immersive exhibition. One of the most intriguing parts of this project was how the artworks were activated–visitors to the exhibition had to use their bodies to bring the work to life.
As a communications brand, Claro became an instrument of creativity, and not just 'another phone company'. By investing in its customers, the return was immeasurable. It's what we believe to be an essential ingredient in how memorable a brand becomes.
VISION

Photo courtesy of Arek Rainczuk for TEDxMelbourne
What drives us to do what we do is an innate curiosity with the 'why' of things. It's how Mages came to be part of
TEDxMelbourne
. It's a globally recognised brand that needed a Melbourne twist, from the curation of speakers, right down to the physical space of the conference. Yet what plays centre stage here are the ideas, not so much the brand. But, inadvertently, this focus translates not just to the identity of TEDxMelbourne, but to the whole experience. People walk away feeling very "TEDx".
For us as a creative studio, it's what we endeavour to create: more memorable and lingering emotional connections between consumers and brands. We believe this can be done by looking strategically at all possible touch points between the two, paying particular attention to the spaces in which brands and people meet and interact.
TASTE

Photo Henry Trumble
Something we've observed recently is a definitive lack of good strategy work done for brands – strategy is often still viewed an add-on, not as a necessity. We are a strategy first studio and we won't do the deliverables on a project without a strong reason why. We've found that a good strategy can act as the umbrella under which everything else sits. It also makes decisions about what creative assets need to be acquired much easier.
We love working with brands in hospitality and tourism for this reason. One such example is the transformation of Spiritual Nutrition, a Melbourne-based health and wellbeing company. Emma worked closely with the owner to bring to life the vision and direction for the business. Our strategic approach elevated the brand from homemade kitchen balls to a spiritually driven endeavour with a stronger voice on nutrition and spirituality. Using photography as a medium to invoke a feeling, Spiritual Nutrition evolved into something much more than just protein balls.
VESTIBULAR

Photo Henry Trumble
A key question that is imbued in all that we do is this: "what does it mean to be human"? We don't have the answer, but what we do share is a passion for asking philosophical questions. The journey is very much the destination, and it's a process we take it seriously – we dip well below the surface and take people to places they might otherwise fear treading.
In 2018, we hosted Transformation. A dinner. It was an intimate dining experience curated and facilitated by us with a small group of strangers.
What we learned is that we have a unique ability to guide people through an experience, creating a safe space to share and be vulnerable. Over the course of the dinner, there were tears, confessions and open dialogue – people entered as strangers but left as close friends. The emotive experience of our brand deeply affected our guests, unearthing the power of meaningful conversation and its ability to change hearts and minds.
PROPRIOCEPTION

Film still Hayden Sommerville
All of the above musings and experiences lead us to create
Sensory Experiments
for NGV Melbourne Design Week. Held at the Norla Dome in Melbourne, it represents themes we are very passionate about, such as: sensory experiences, design, art and culture.
This project pushed the boundaries of the festival it was a part of, and was born out of a lot of in-depth research. We look to the past for inspiration about where we can go now and into the future. For DIAZ DAVIS, this is a process grounded in feeling and expressed creatively through our senses.
PROPHECY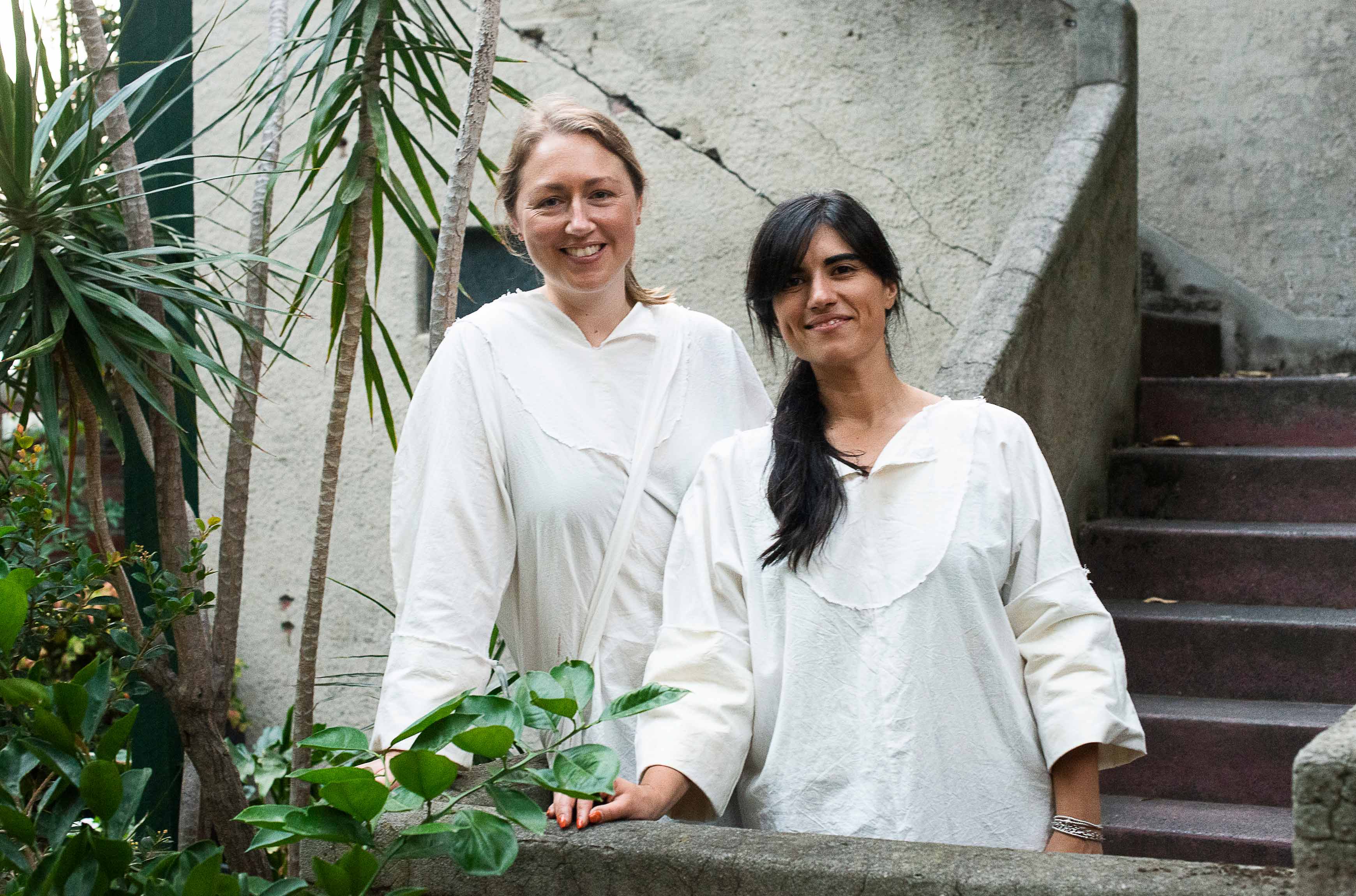 In costume at Sensory Experiments, photo Carmen Zammit

As we embark on this next unknown journey, we share a hopefulness for what we will create and for the industry at large. We hope to see less of a focus on client service, and a shift towards more real, human relationships.

We will champion freedom for creatives to direct and shape the work they produce, not feel restricted by too many constraints or 'orders from above'. We also wish to be a sanctuary for bold ideas and challenge the status-quo, so that you come to us for help, not just because you need branding, but because you want to co-create and craft a particular feeling with us. Because that is what brought us here – feeling – and it is what will sustain us moving forward.

✚